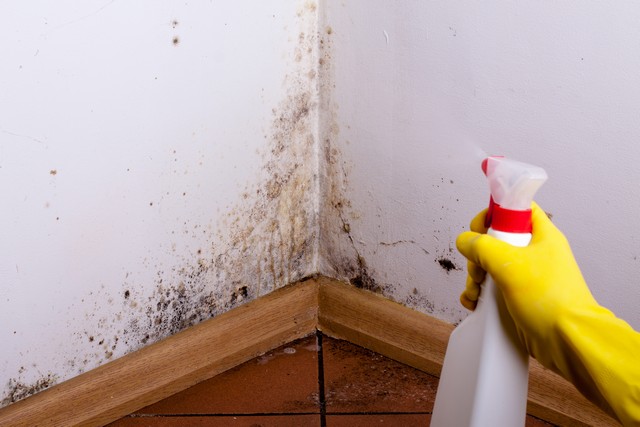 A little bit of mold was regarded for years as nothing to be afraid of, but recent years have shown that mold in the house is not a simple case of something one finds in their shower. It can be dangerous for everyone exposed to mold and dangerous for pets, as well.
There are, of course, molds that are the typical kinds that one finds that really aren't much of an issue for people. This is the kind of mold that ones find around a shower or a toilet. A little bit of vinegar and bleach easily dispatches the problem and everyone continues on living in the home without a problem.
There are molds, though, that are much more dangerous to people's health and need to be dealt with, including the infamous "black mold" that everyone's heard about in the last ten years, or so.
What is black mold? The simplest explanation is that it's marked by its color, which is a dark black, as opposed to the other colors of mold one might find in the house, such as green and grey molds. Black mold is found in the warmest, and wettest parts of the house. So, the places to look for it includes leaky basements and possibly bathrooms with ongoing moisture issues, or ones that aren't well ventilated.
Why is it so dangerous? It doesn't just look bad. Mold can seriously damage a person's health. The most serious result of mold is how it affects a person. Mold consists of spores which become airborne. Once in the air, people are in danger of breathing them in. That's where the issue starts: once the spores interact with the lungs, they can lead to health problems.
What symptoms should I look out for? The most common symptoms of exposure to toxic molds are problems like coughing, sneezing, sinus infections, and even asthma attacks. Other problems can also occur, like difficulty breathing, headaches, sore throat and inexplicable skin rashes. 
More serious issues that require immediate medical attention are pneumonia and bleeding in the lungs, extreme fatigue, and even depression.
If a person shows any or all of these symptoms and there is a musty smell when entering the house or there has been recent water leakage, then it is of paramount importance to test the house for mold. Some people have opted to do the tests themselves, but mistakes can be made by people who aren't trained in this field. The best thing to do is to have a professional come in and test for mold.
If a home tests positive for mold, then the mold needs to be removed at once. A professional team can accomplish this and it is not advised for homeowners to attempt to do it themselves. If non-professionals attempt to remove a mold problem, they can actually inhale the very spores they're trying to get rid of. There is also an issue that there can be more mold than meets the eye, which specialists are trained to look for. So, get a professional in to test for and remove mold problems in the home!